We are home!! It is still raining!!
To back up. One rainy morning I rose to feed my crying baby, splashed through the 2-inch puddle that was our foyer, and walked into our living room which, during the night, had been festooned from one end of the room to the other with the webs of five busy spiders. It was weird, and I suddenly was homesick.
So Dessi and I left Eric to work and have been in Whitefish, Mont., for the past three weeks. We had a fabulous, amazing, belly laugh of a trip. We saw grandmas and grandpas, aunties and all manner of friends who instantly fell in love with this new, practically grown up Dessi, and she for her part learned to clap; wave bye bye; stand on her own for five to 20 seconds; feed herself (what a relief!); undo her own diapers (not so much!); and "talk." (She is consistently using particular grunting noises to mean particular things. I count this. She also grew her first two teeth.
What a ham she is! After three days of getting used to her adoring fans, she just started soaking it up. She would clap or wave and then look around to see who was going to give her a cheer for her success. It was really heartwarming, and it was good for her to be around so many other people.
Here she is in our garden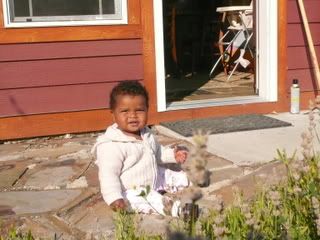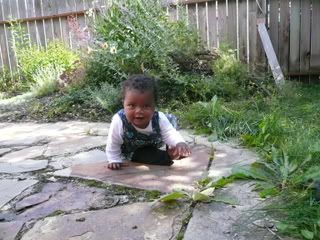 Feeding herself: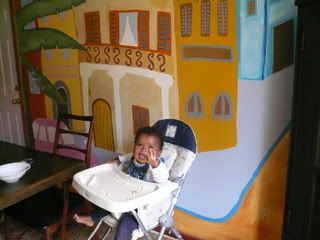 Waving ...
Double waving ...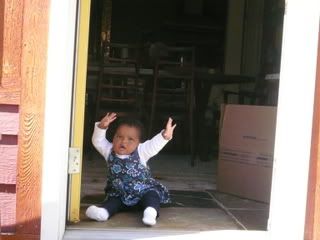 Clapping ...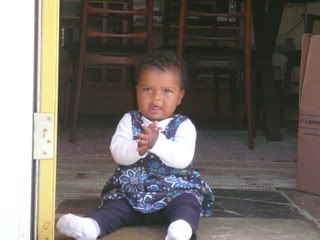 And being silly.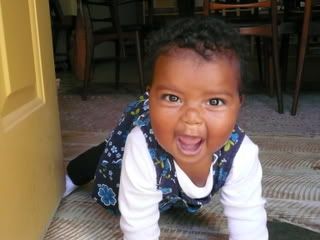 Here are Dessi and Auntie Cheryl: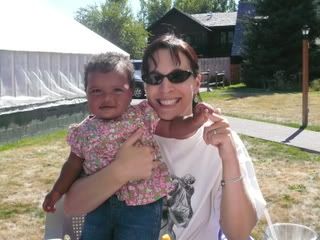 We also took a camping trip to Calgary to see this gigantic international horse jumping competition.
One cold morning (it rained both nights. Blech.) ...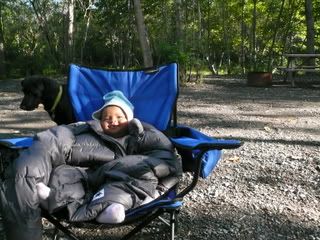 With Derreck, after the show ...
Riding a horse! (No jumping yet ...)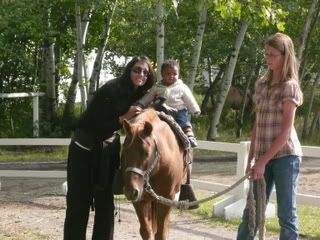 And with our friend Lesley ...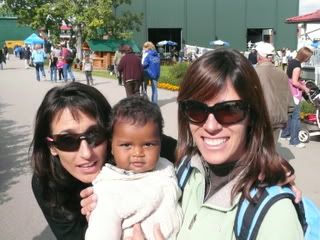 The stadium was okay but pretty crowded and challenging for an 11-month-old's attention span. Here we are upon arrival: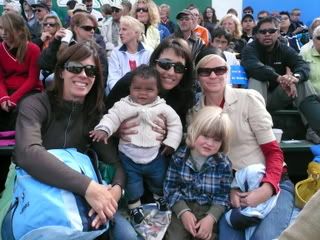 And this is after about 20 minutes: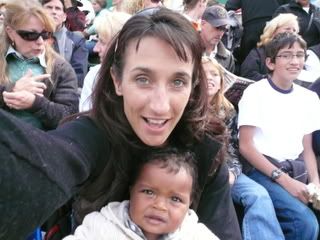 And lastly, Lesley, Jenny and I took a three-day shopping trip to Seattle, where we stayed with the Young clan and ate sushi (at speed-eating rates so as to not interfere with the shopping) and laughed a LOT.
Here is Dessi with Grandma Ginny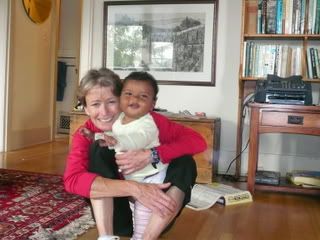 And at the Nordstrom's shoe department! Yeah!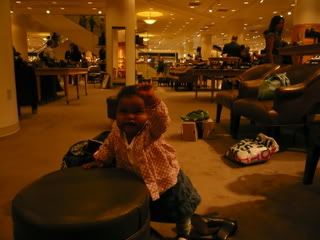 And now we're home. Dessi's doing well now, last night was the first night (out of last five) that she slept through the night. This is sorta jetlag, and sorta just because she stayed awake the whole flight and got home and was just ravaged schedule-wise. Which has really sucked for me, because my husband can sleep (and does) through anything; he says I should just nudge him and he'll get up and take care of her, but somehow in the middle of the night I just get bitter about it and storm off to the baby's room. :) It does not serve me well, particularly because he is not awake to see it. Plus when I get up for more than 10 minutes, I'm up for hours. (I can't go back to sleep.) Which has left me reviwing lots of Sarah Palin footage, which is not a sleep-inducer, either. 'Nuff said.