Dessi and I are leaving tonight for Florida! We decided about a week ago and in that time we've been getting more and more excited! (Well, I have been. Dessi is neutral and Eric is mildly sad, but he's also happy that he'll be able to kayak as long as he wants to after work and that he'll get lots of his other work done.)
Before I go, wanted to post these photos of a great trip we and our most awesome friends took to Saint Louis and the Djoud bird park.
Here is Dessi, reading her book and babbling to herself on the drive up. (The book is part of her Little Brown Bear series, it's in French so Eric and the nanny read it to her (and I practice with them.) She loves them!)
Here we are eating dinner. Note the whacky faces Henrik and I are making to try and make our babies smile, and the I'm-not-with-them face that Eric is making.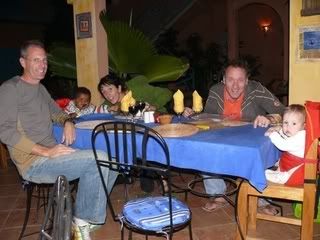 Here is a pretty crappy photo of us on the boat. Dessi actually had a great time, looking at all the birds and pretty much enjoying herself as usual. Just, we didn't take many photos. I chose this one because of the birds in the background.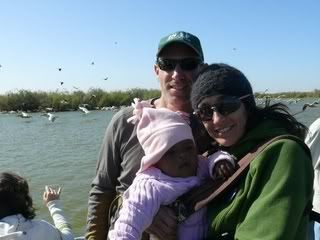 This is us on a horsecart ride around the city. Tourists! (So and, yes, there is a horse tied to the front of the cart we're sitting in.) It actually was very windy and I didn't like it at all.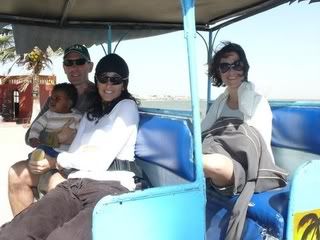 And this is a random photo of a cow on a ferry a few weeks ago when we were going to Isle de Goree for the day. For some reason it struck my fancy.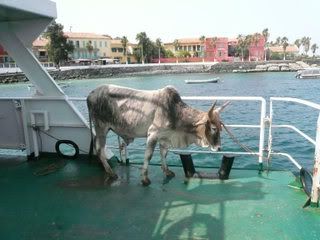 I'll be back in two weeks!!