Wow.
WOW!!!
I'm crying all alone on my couch in Dakar, Senegal. It's 4:17 am here, and Barack Obama has just been elected President.
I am so proud of my country. I am so happy for the world. I remember one of the first times I heard Obama speak - way before he declared his bid for the presidency. I was pretty mortified about the behavior of my country. I respected Obama so much. And as he was speaking, I realized that he sees in America all the things that Americans see in HIM. The poetry of ideals, of principles, of gratitude and grace and goodness. Of yes we can and yes we are.
And, also, phew!
...
On a personal note, here is us, trying to stay awake, with our noisemakers and Obama T-shirts and all-you-can-eat plates of brownies.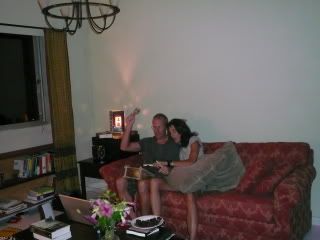 Here is Dessi on election night, giving Eric a high five for Obama!!!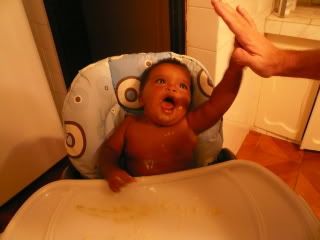 Before Eric crashed at 3 am, I actually considered waking the baby up, just so she'd have something to look back on when she's in college -- a picture of herself with her politically obsessed, brownie-buzzed parents all sitting on the couch together the night Obama was elected President.
I have a feeling she'll grow up knowing all about it, anyway.