Eric's brother, nephew and mom are still visiting, so we took them to see Lac Rose and Saly.
The hotel in Saly, Les Amazones, rocked! It had a fabulous pool with a shallow end that slanted into steeper waters. Dessi played there all day long. Here she is showing off her balance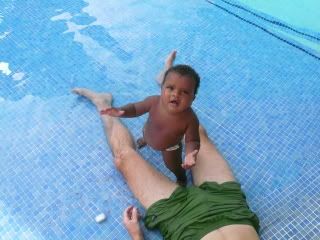 and crawling down the incline to daddy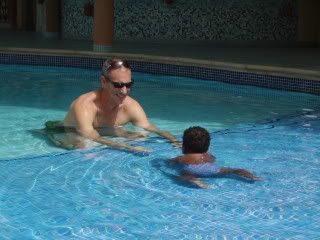 We also had a waterfront backyard just maybe 50 feet from the ocean. Here's Cousin Aksel showing Dessi a thing or two. I believe he actually was saying to her just as this photo was taken, "OK, look at this, Dessi -- you're gonna love this!"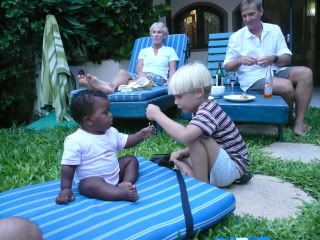 We went to Lac Rose, a shallow lake that turns a deep pink during the dry season (this is not) and at some magic time of day, purported with equal certainty to be morning, mid-day, or evening, depending on whom you ask. Regardless, we've yet to hit it right, but we had a really great time; the adults led the way over some small sand dunes (we had a big ol' truck) while Chris and Aksel four wheeled.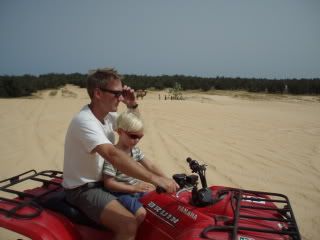 Afterward, we stayed a while at the lake side to watch the men mine salt from the lake bottom (they stand in the salty water up to their chests and dig the salt up with a shovel), and then the women help them put it into piles. Each of these piles is marked and belongs to a specific family.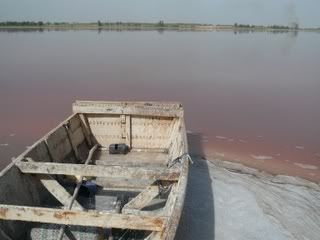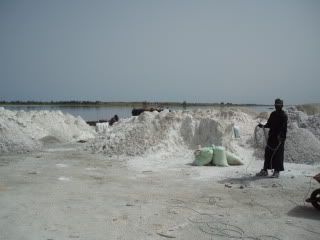 We bought a 2-kilo bag for about $1.25.