This year's birthday was big for all the obvious reasons, but it also marked the day, six months prior, when we adopted Dessi from Ethiopia. Which means she has now known us for longer than she has not known us. Every day, I count my blessings and give my thanks and hope that I'm up to the task of being a mother to this pure little light of a baby, who has the sweetest, most trusting and open little heart I ever imagined any child could have.
Here she is at her party, preparing to open a present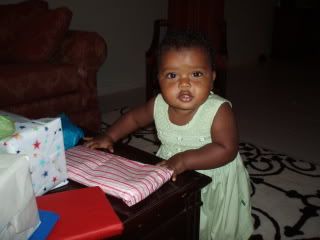 and waving, as per our request, before very sweetly ripping the hat off her head.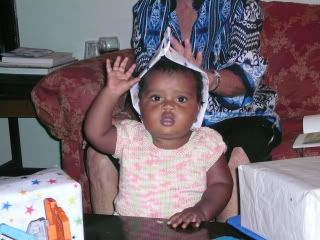 I could say that she is walking now (four steps at a time, regrouping, and then four more), or feeding herself or going underwater a little bit in the pool, but really I want to say that she is so, so delighted with the world -- with meeting people and seeing things -- and that wherever she is, the people around her are laughing with her and exclaiming about how they have never seen such a happy baby. She makes jokes (and she laughs at her jokes), she makes a mess (she has recently discovered the bounty of food that we JUST LEAVE THERE IN THE REFRIGERATOR), and she cuddles and hugs and has started doing the sweetest little close-your-eyes-a-little thing where she still is looking at you but squinting and smiling as if to say, "MAN I love you just SO much!" (This is, of course, a mama's interpretation. Leave me be.)
The birthday party itself was a simple affair -- Eric, Uncle Chris, Grandma and Aksel returned around 4 pm from their trip to the northern town of Saint Louis, so we had cake (she's still off of wheat, milk, and egg whites and so had a creme fraiche and egg-yolk-only souffle thing which truly did look a little pathetic, but it had some sugar in it so she was psyched), and she opened her presents of books, a musical bunny, and a hammering toy, but mostly she worked at trying to steal Aksel's matchbox truck (which, who knew? The child likes trucks!)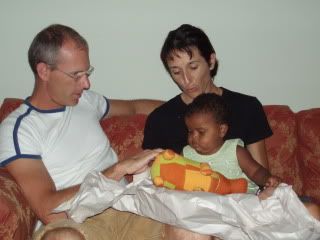 Now, it is tomorrow. When she wakes up from her nap we'll have a trip to the pool, then lunch, a trip to the beach, then naps, then dinner and bed. A day like any other, and yet somehow, really, it does feel different to me. Even though it's just a technicality -- it's just math -- it feels like we've got some time under our belts now.