Brussels, there's not really much to talk about. The people were kinda rude, but the shopping was fun and there is a beautiful central square that had really unique and cool architecture. Glad we went, glad we only stayed two days.
Then on to Germany, which I wasn't particularly excited about but I have to say, Germany rocks! It is beautiful and green, health-oriented and multicultural. We had five days in Frankfurt, then a few days in Heidelberg and Baden-Baden (ooh, two hours of mineral baths and saunas for me!!!) (Eric babysat/searched fruitlessly for a new kayak paddle.) There were lots of surprises (great Thai food) and things to remember. A few favorites:
Finding the exquisite Chinese gardens on a rainy morning walk through the interlocking greenways of inner Frankfurt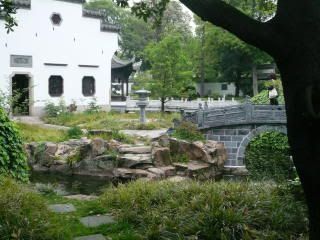 The merry-go-round!! This was really fun for me. Dessi only liked it after we were done. (I dunno, can you tell? I actually have a lot of photos like this. Poor kid.)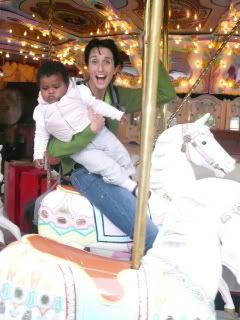 The parks! It actually rained a lot, but the kids parks were so great that we just went out and played anyway. Here was a particularly muddy day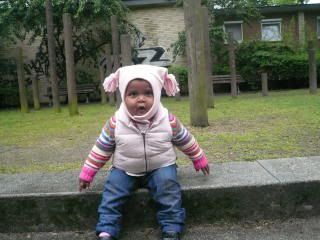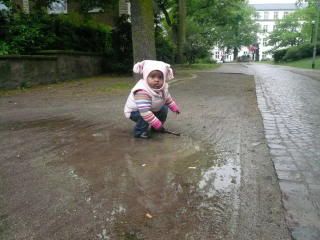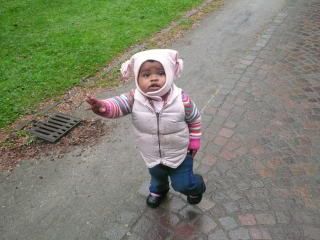 The Stroller! After eight days of hauling my pretty little 30-pounder around the cement streets of Europe on my back, my knees and feet and I just couldn't stand it anymore. I thought I would long for my light-on-our-feet parenting approach and feel sad by this cumbersome addition, but it turns out, it's one of the greatest things ever. No WONDER everyone uses strollers!! Dessi picked this one out herself (she climbed in at the store and didn't get out for two miles), and I couldn't have been happier myself.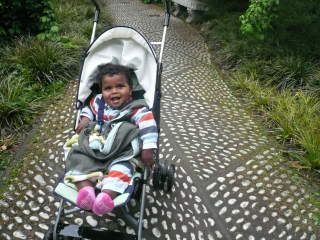 More Parks! Heidelberg had lots of great and innovate kids' parks, including this really fun waterpark along the river. She doesn't look very happy in this photo, but really she loved it.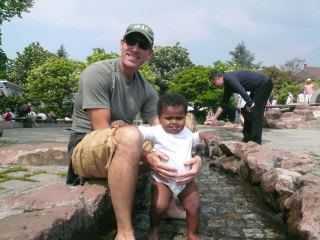 Here we are walking along the Nektar river in Heidelberg. This is how Dessi was all week -- babblling and being a goof. We had such a blast with her.
Muesli! She's using utensils pretty well -- reasonably neat and accurate now, which is no surprise really -- look at that concentration!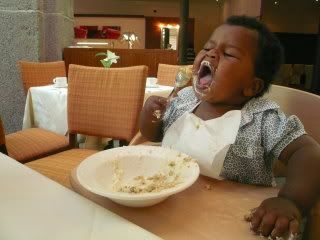 Here we are, somewhere. These self-portraits never come out well.
and here she is in Paris at the airport, killing time before the flight home. She continues to be the most amazing traveller - very adaptable and good-natured.