My adventurer-husband recently discovered that, if one departs an hour before low tide, one can drive peacefully along the beach all the way to Saint Louis (4.5 hours to the north), thereby avoiding the bottleneck that is the town of Rufisque. So, this past weekend, that is what we did.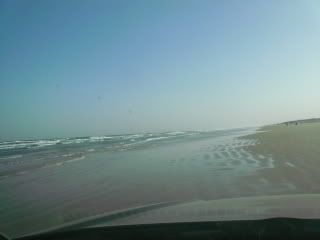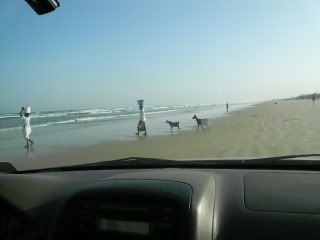 So. As we were driving along at 50 mph with the ocean to our left, our left front wheel went into some water of underestimated depths -- instead of 1/4 inch, it turned out to (probably) be more like 2". So, that slows your one tire down, and the others continue their momentum and circle the car around and into the ocean. It all happened so fast, but I would say for about 3 seconds we were driving straight into the sea. All you could see was water. All you could hear was water crashing. Then, we turned the car parallel to the beach again and continued on our way. I have a very peculiar habit of laughing when I get nervous. I was laughing.
It was Dessi's first time forward-facing in the carseat, too! I wonder if she was thinking, 'Man, is this what ALWAYS happens up here?'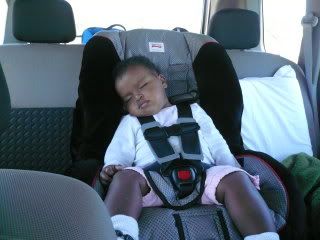 After two hours, we reached our beach exit and had to drive about 300 feet in deep sand to get back onto a road, and so we got a little stuck doing that. I pushed the car (Eric is a better driver) so that we could return to the hard-packed beach; the second time we went much faster (it felt really, really fast!) and that way you just sort of fly right over the sand without giving the wheels a chance to sink in. I suppose that's the logic, anyway. At any rate, we made it!
After the beach, we bumped along dirt roads, where little children stopped their games to run alongside the car, waving and shouting Bon Jours. As usual, lots of women were out, chatting and walking together with broad loads piled on their heads, and other Muslims returning from prayers (almost everyone is Muslim in Senegal). I don't normally photograph people -- it always feels inappropriate to me -- but these women created a sparkle you could see a mile away! I don't know what's up with everyone having the same outfit, or the glitter. School uniform? (But it was a Sunday.) Got the material wholesale? Don't know.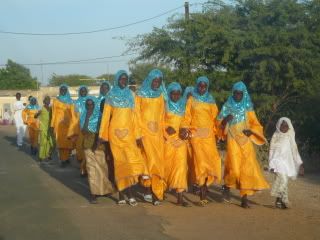 In Saint Louis, we decided to try Langue de Barbarie, a 600-mile preserve that stretches into Mauritania. This is a good time (winter) to see lots of birds as they migrate through Senegal, and we wanted to kayak around on our own versus using the motor-powered Pirogues that are required to see the better-known Djoudj national bird sanctuary, which is also in northwest Senegal.
We took our leaky little rented boat across a small inlet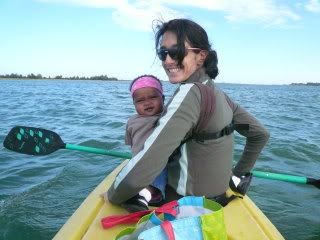 walked around,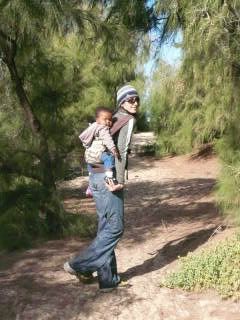 and were back in Saint Louis in time for lunch. We saw zero birds. Not one. Not even a seagull! As usual in Africa, the adventure was in the journey.