We've been in America again!!! First, to the homeland (Florida), where we spent a few days in Orlando (no Disney World for us -- that seemed like it had no potential for good, really). We DID hook up with my old college friend Smilee, though!!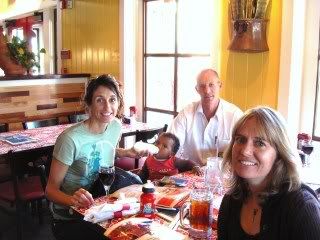 And then onward to Hudson, Florida, where Dessi's grandparents live and where she met for the FIRST TIME her uncles, Dave and Mike, and her Aunt Liz,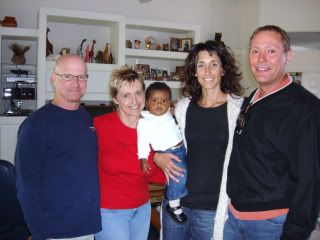 We also got to reconnect with my brother, Uncle Kevvie -- whom I dearly miss hanging out with -- and his great family. Dessi's little cousins played so well with her, grandma and grandpa cheered her every move, and I really felt that she was just surrounded by so much love and adoration for the whole week. I think she felt that, too. It was great.
After Florida, we packed (and bundled) up and headed to Georgetown for a week of ... well, strolling around, mostly. We had lists of favorite restaurants we wanted to revisit, but as it turns out, that's almost impossible to do with no babysitter. We still had some fun, though! And the last night we did find a recommended sitter, so we got started at 5:30 pm and went to THREE restaurants (a drink and a snack at each one). That was a really nice date.
Here is Dessi in DC, trying to stay warm and not look too humiliated in this sweet little getup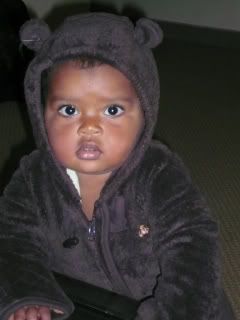 Or in this one.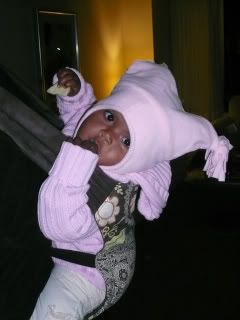 We actually bought her the hat and sweater because we are a little tired of people asking if she's a boy. I mean, yes. She has very short hair. But look at that face! She is a stunning beauty! (Am I biased?) I've always thought it was funny that parents dress girls in pink, boys in blue. But fergodsakes, this must be why.
And then finally, before our flight home, look who we saw in the airport!! I love him!!