Bilbao, at the Guggenheim museum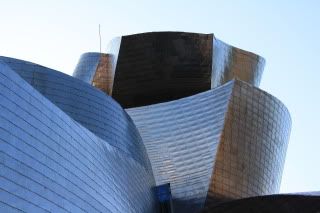 Which is a better picture?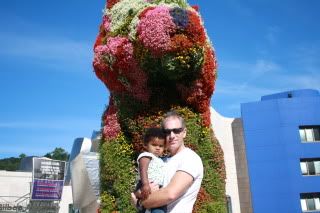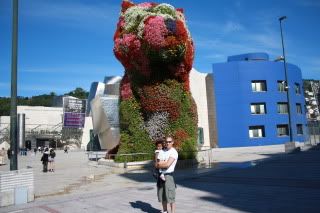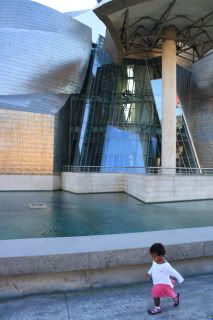 On the rooftop, with Bilbao in the background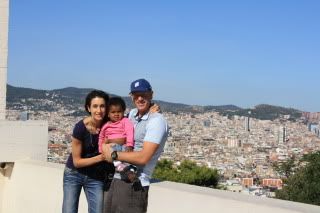 and here with some rooftop art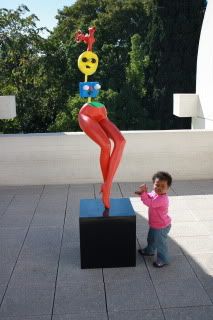 Here's a Gaudi building. I THINK this was in Bilbao -- it might be Milan.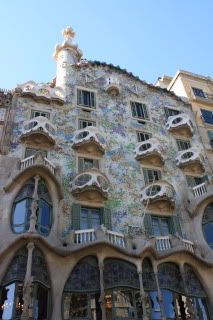 Also in Bilbao, we celebrated Dessi's Second Birthday!! Having rather bizarre priorities, we did not take any photos of the actual party except for this fairly unfabulous one.
Really, the day itself was really fun but the party was unimpressive -- we were hungry, my feet hurt, and Dessi's birthday dress had gotten poo on it. So we kicked her new ball around, played with her new choking hazards, and called it a night. Onward!
On another day, here we are, "hiking" on the Camino de Santiago. (Hiking with the Bob. It's a very established trail system.) It was my idea. Yes, yes, my idea for us to drive hours out of our way (it looked like such a short distance on the map!) on a slow and winding road only to hike for approximately 35 minutes on a windy and freezing day!!! After which, we drove back the way we came. Pilgrims, we are not.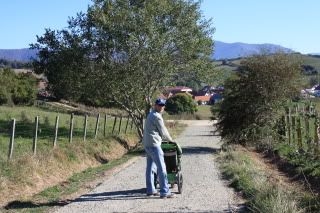 But it was a sweet little village.