Dakar has its perils. Driving on goat-riddled roads, watching out for pickpockets and scammers (I lost $75 to one, I am sorry to say), and now we learn of ... the blister beetle. Here is Eric, modeling his run-in with one.
Or at least that's what we think it was --he didn't see it, we think it happened at night. Their joints carry this poison, and as you brush them off your skin while they're walking across you, you spread it around (thus the long red marks) and, where enough of it leaks out, your skin blisters. It also burns like hell, I have repeatedly been told.
The pygmies of South America use blister beetle poison to whet the tips of their deadly paralyzing arrows, but we don't such toxic ones here. There are 2,500 different blister beetle species around the world. Including, they're in Florida. Which is where I grew up.
On an equally bummer note, last week we found out that we have mango flies in Dakar. Mango flies lay their larvae in the dirt or in wet things. So let's say your little puppy rolls around in infested dirt. The larvae will activate and worm through his skin and live embedded in there until they're ready to fly away. They actually eat his flesh a little. (This must be the purpose of being embedded; I do not think they bring snacks of their own.) But, the most horrible thing is, they can get humans, too! It happens most commonly when clothes are left to dry; the flies lay eggs in the damp fabric. (We use a clothes dryer or we hang our clothes inside.)
My friend Amber's puppy, Cha-Cha, was unfortunate enough to have many embedded larvae thingys when they first got him, she was understandably quite distressed by her task at hand but said I could take photos as she popped the larvae out of their little holes (the skin gets large and looks like it's a big zit that has to pop, but when you squeeze it, a little white worm comes out.) I came with my camera but the puppy didn't have any real poppage, mostly just white ooze came forth (we think she caught it early). Apparently, they leave a little breathing hole at the surface, and you can cover that with vaseline and encourage them to back out (for air), but I didn't see this. This is what I saw, but the photos is not very good; Cha-Cha didn't really like it and so squirmed a lot.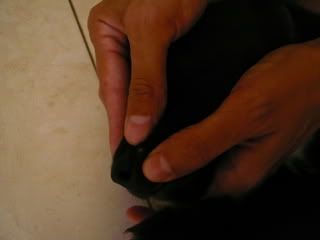 Anyway, disgusting and more disgusting.