I've read that when a baby learns a new skill, she can be so enthusiastic for practicing it that it can actually distract her from sleeping. Articles detailing this phenomenon often list as example activities such milestones as learning to pull themselves to standing, or of sitting up alone.
Well MY baby has learned to stick out her tongue and make it go plttthhhh. She has been working it for days now, sticking it out and grunting, sticking it out and grabbing it with her finger, sticking it out and spitting everywhere. But today (and now, alas, tonight), we have plttthhh. It is 8:48 pm and I can still hear her in her crib upstairs, practicing.
I would have taken a photo but I didn't want to add to the distraction. Maybe tomorrow.
Here are some other ones from this afternoon. Oh, she is so cute in this first one: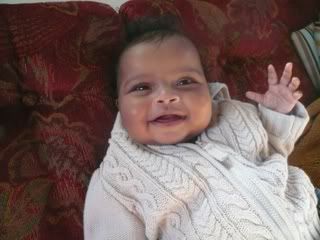 And then in this one, too! How can she laugh and drink at the same time?
She was a full-on card today, actually. We took TWO walks (the weather finally was beautiful! Sunny, and no more hail!) and generally laughed a lot at each other. She seems more and more attached to us (her parents) and less and less comfortable being held by other people, which is strange to me -- I would have thought it would get easier for her on all fronts -- but it may be just a little bit of overload. I guess some days you just don't have it in you to suffer the charms-for-smiles of strangers or to be picked up and handed off to people you barely know. I actually would loathe being in this position myself. I think it would feel like ... I don't know. Like of having just a head and no body, and then having my head handed off to be held and coddled by people who SEEM nice but ...
Or, I don't know. Probably not a good analogy and at the very least I can't imagine people lining up to coddle my nightmarish floating head. At any rate, I'm off to bed myself now -- 9 pm and this is the latest I've climbed the stairs since we brought Dessi home! I am thinking about waking her up right before I go to bed just to give her a bottle so that maybe ... MAYbe ... she will sleep more than 5 hours without waking up hungry. Does this seem dumb-crazy-reckless-stupid, though? I mean, she wakes up, we feed her and then she drifts immediately and solidly back to sleep again, it's not like it's a deal-killer schedule or anything. And yet, it is human nature to strive for more sleep whenever possible, and also I am a risk-taker.
I'll post again about it if I do; I'm not committed to it right now, just reviewing options.
L